From DD-WRT Wiki
Contents
The ASUS RT-N16 is a single band (2.4 GHz) N300 Gigabit Router with 128MB RAM and 32MB Flash ROM. Note that SFE accelerated NAT (K3X build 33006+) is required to achieve high WAN speeds with an IPv4 SPI firewall. For speed tests without SFE, see Performance.
[edit] Hardware Specifications
| | |
| --- | --- |
| RAM | 128 MB (2*64MB): Samsung K4N511163QZ-HC25 or Samsung K4T51163QG-HCE6 |
| Flash | 32 MB (MACRONIX MX29GL256EHTI2I-90Q) |
| NVRAM | 32K |
| CPU | Broadcom 4716@480MHz[1] (Broadcom spec is 533) |
| USB ports | USB2.0 x 2 |
| Power Supply | 12V — 1,25A max (Upgrading the Power Supply) |
| RJ-45 Ethernet Ports | WAN (1), LAN (4), both 10/100/1000 Mb/s |
| Antennas | 3 x external detachable 2dBi antennas |
| WiFi Frequency Range | 2.4GHz |
2.5GHz
802.11n
up to 300Mbps
802.11g
up to 54Mbps
802.11b
up to 11Mbps
Switch Chip
Broadcom BCM53115SKFBG
LED Color
Blue
[1] Run cat /proc/cpuinfo in a terminal (like puTTY) to get the full CPU details.
[edit] Main board
Please note: Details of the DD-WRT firmware build variations are found here. More current build information can be found in the Peacock announcement thread. See Where do I download firmware? for links.
[edit] Overview
Restore Factory Default settings (Clear NVRAM)
Install the INITIAL trailed build 22118 K2.6_mini_RT-N16.trx of DD-WRT
Restore Factory Default settings (Clear NVRAM) or via DD-WRT webGUI
Upgrade to the temporary 21530 K3X custom build (from 2013)
Restore Factory Default settings (Clear NVRAM), or via DD-WRT webGUI
Upgrade to recent working K3X mega or big build (*.trx and N16 in the name)
See Where do I download firmware for links and research New Build and model-specific threads.
[edit] Procedure
Download the INITIAL trailed DD-WRT firmware: (2013) 22118 K2.6_mini_RT-N16.trx Any current trailed build in the K26 series will work such as [1]
Restore Factory Default settings in the Asus GUI. Asus factory default username/password is admin/admin. Let the router reboot. Plug the PC into a LAN port on the router and disconnect other connections.
Flashing the INITIAL Firmware to the router (the one where the file name ends in .trx)
Set the router in "Recover mode" (same as other Asus routers) With this router pull power, hold the reset button in then plug in power and look for the slow blink of the power light.
Use ASUS Firmware Restoration Utility to upload the new firmware (from router CD or here). or search for Asus Recovery Utility. Or use tftp under windows. (tested on windows 10 the command tftp -i 192.168.1.1 put dd-wrt.v24-36808_NEWD-2_K2.6_mini_RT-N16.trx works)
You need to set the PC to Static IP 192.168.1.2 (Static IP guide)
Set the router in recovery mode by holding in the reset button when plugging in the power. The power light should now be blinking slowly, meaning the router is in restore/recovery mode and ready for the new firmware. Upload and wait for the router to reset on its own (may take anywhere from 3 to 15 minutes).

Note on Asus Recovery Utility: The recover utility is just a tftp server with added wait timer, but standard tftp tools can also be used to upload firmware. Just remember to do the proper 3 minutes or more wait for the unit to reboot itself, after the 10 to 30sec tftp completion. See: TFTP, ASUS TFTP

After the reboot from flashing, wait for the device to show the password change screen for DD-WRT. Enter root as the user and anything for the password as you will do the user/pass procedure again after the final flash.
Reset to Factory Settings.
Method A — Use the DD-WRT GUI. Go to Administration->Factory Defaults, click Yes then select Apply.
Method B — WPS button hard reset. The following procedure will clear out the NVRAM and set dd-wrt back to default values:
With the unit powered off, press and hold the Red WPS button on the back of the unit.
Without releasing the WPS button plug the power in, and hold the WPS button for 30 seconds
When releasing the WPS button the unit will reboot and Factory Default settings will be loaded.

Note on Asus hardware reset for NVRAM clear: do not use the Reset button. See Eko's post

Reset is recommended BEFORE and AFTER flashing and may be required for large jumps to avoid issues.
Upgrade to the custom transition firmware dd-wrt.v24-21530_NEWD-2_K3.x_big.bin (Alt)
NOTE: 21530 is not a regular released beta build! This transition firmware repartitions the flash. Later firmware of this series DO NOT.
Use the web GUI to upload. Administration->Firmware Upgrade and select Reset to Defaults.
Upgrade to a recent working K3X big build from the betas folder, this time DO NOT reset settings.
See Where do I download firmware for links and research New Build and model-specific threads.
Note that you SHOULD NOT reset settings under any firmware beyond the transition firmware or you could render it unbootable necessitating starting over.
Firmware 36808 BIG K26 runs on this router. [2]
Congratulations! Please consider donating to DD-WRT as we are an open-source community providing free software to upgrade consumer routers with commercial-grade capabilities.
Also read Basic Wireless Settings and Advanced Wireless Settings to learn how to get the most WiFi data speed out of your new N-Router.
[edit] Troubleshooting
IF the router won't provide a Power LED after updating to the K3.x file. then there is a problem with the flash chip and it needs to be cleared (except the CFE). Issue the following commands via telnet/SSH or the Commands window under the Admin tab.
mtd erase nvram
mtd erase ddwrt
mtd erase linux
This will clear the flash chip. now start the process again with the K2.6 mini build
This is documented here: [3]
[edit] Notes about K3X
Do NOT issue "erase nvram" command from CLI. this unit only has 64K of nvram. the CLI thinks it has 128K and the firmware thinks its 256k. this means doing an "erase nvram" removed other parts of the flash chip (likely firmware partition "dd-wrt" or "linux")
Note: build 21530 seems to have wireless issues. it broadcasts the ssid. but you can't connect to it. however, if in repeater bridge mode, you can contact it through the host AP at the router's IP address.
There is a large thread with lots of info on this router here [4]
[edit] Notes
NAT Loopback (Port Forwarding) is broken in builds 15760-19969 (see this thread for a workaround)
15962, 17990, & 18000 are Recommended Builds which would require this workaround
Special thanks to Eko for making the initial work on getting the RT-N16 to work with DD-WRT!
If DD-WRT is already loaded on your router, you can flash firmware using these steps
Download firmware from one of the sites listed: Where do I download firmware
Go to the Broadcom K3X folder, then download the ***K3.x-big-RT-N16.bin file.
Open the DD-WRT's web interface in your web browser and open http://192.168.1.1/ (the default).
Admin page: Reset with Restore Factory Default settings and let the router reboot. NOTE this may soft brick it! To be absolutely sure this does not happen you can login to the router and issue the mtd commands listed above and start over with the K6 trailed build on recovery mode followed by the special transition build.
Open the DD-WRT's web interface in your web browser. Upload/upgrade the firmware using the
Administration tab -> "Firmware Upgrade" button.
Click "browse" button -> select the downloaded file -> click "Upgrade" button. It will take about 2-5 minutes to upload and write the flash. Your browser should reboot when it is done.
Admin page: Reset with Restore Factory Default settings. (Only necessary if coming from an old build)
Alternative: on the Upgrade page, select "Reset to Default settings" for "After flashing, reset to". This is to automatically reset to Factory Default settings when it reboots, though this may not be reliable.
Note: For newer builds, please read the "New Build" or router-specific threads. See Where do I download firmware for more info on New build threads.
[edit] Restore to Asus Firmware
Download the latest ASUS firmware from the ASUS web site [5]. Or use FTP.
Rename the Asus firmware file from .trx to .bin
Do a Restore Factory Default settings to Clear NVRAM in DD-WRT
Go to the DD-WRT firmware upgrade page and select the renamed ASUS firmware
After the flash finishes, and the router has rebooted, you see the ASUS GUI. If not, clear browser cache.
Do a Factory Reset to clear the NVRAM using the Asus GUI
[edit] Recovery Mode
To access recovery mode, you MAY have to press the WPS button (not the reset button like other ASUS), then plug in power, and tftp the firmware you want to flash. Some people have reported that the reset button DOES work like the other ASUS routers to get it into recover mode. GUI Factory Reset before and after every flash to make sure you don't have any nvram problems or conflicts. On this router, the reset button only resets the nvram partition.
[edit] De-Brick Methods
Hard reset to factory defaults by holding in the red WPS button while plugging in the power. Eko Forum note
Recovery mode, to upload a different firmware.
Internal serial connector, using CFE commands. Use 3.3V TTL level signaling. For example: US shop FTDI Serial Adapter is small and reliable, prov >[edit] Known Issues, Bugs, and Workarounds
Hardware fix (capacitor) for RT-N16 wireless drop-outs [6]
UPNP is currently not working for the RT-N16, so for now leave the feature disabled unless you want a full CPU Load. FIXED with SVN Changeset #13527
Access Restriction with MAC-Filter doesn't work on Asus RT-N16. FIXEDTicket #1319 (as of 12/18/09)
On this router the reset button will only bring you to recovery mode. If you wish to restore defaults, use the Red WPS button while plugging power in. Post By Eko
Rflow data reports only on upload traffic (Ticket #1139). Further discussion in this thread (only affects those using/enabling Rflow).
USB hard drives after build 15407: "The devs of dd-wrt have removed the loading of file system drivers from the startup of the firmware. They are now loaded on demand with automount. Well, this presents a problem for those of us with USB HDD that automount doesn't detect. In order to load the file system drivers at startup you need to add the following to save startup in the commands tab" for more, see TechInfoDepot DD-WRT Notes
[edit] NVRAM K2.6 Limitation
This is included for historical reference. Use the installation instructions above to flash a K3X build.
The RT-N16 only has 32K of NVRAM on k2.6 builds, and due to CFE limitations, some reported reboots and resets due to running out of NVRAM. K3X builds have expanded the default nvram partition via software.
However, getting K3X to run on this model can be tricky, `erase nvram` can cause a soft brick, requiring TFTP. redhawk0's procedure is here, also read the RT-N16 Condensed thread starting here
[edit] NVRAM Usage Reduction
Using traff (Traffic graph in Status_Internet.asp) or UPnP will cause the NVRAM to fill up quickly, causing router functions like ddns to stop functioning. Upon the next reboot the router will reset it self to firmware defaults. Disable traff and/or UPnP to prevent this, or flush the traff stats occasionally.
Note on traff: Status -> WAN -> (at the buttom) Data Administration -> button "Delete" flushes the traff stats. Services -> Services -> WAN Traffic Counter -> ttraff Daemon: Disable -> Apply settings, will stop the collection of traff data. You may however just choose to reset/delete traff data every month, and the traff data will not take much room in the NVRAM
Note on UPnP: Access to UPnP settings: NAT/QoS -> UPnP. In newer builds (Spring 2012) UPnP is disabled by default.
Note on monitoring NVRAM usage. In newer builds (spring 2012) NVRAM usage/max is displayed on the front Web GUI at "Space Usage"
[edit] NVRAM Reduction Scripts
Save the following as a startup script, it will remove initialized variables that are stored in NVRAM and currently have no value assigned to them (This cleared up nearly 5K of NVRAM in my experience).
Simpler version: Instead of outputting to a file to check if each var is empty, use grep to find empty vars:
1. Check current size and empty var count
This can be saved as a startup script. Alternatively, to avoid further NVRAM usage, save to JFFS or USB with a JFFS partition. Save your script to /jffs/etc/config, give it a .startup extension, make it executable, then DD-WRT will run it after every boot.
4. Saved almost 6K
This is without SFE accelerated NAT.
Sources: [7] Testing methods: [8], [9]
By factory default the cpu is clocked at 480 MHz and the Ram at 240 MHz. Overclocking at CPU 532 MHz / Ram 266 MHz can be achieved with these commands in a Telnet/SSH session :
nvram set clkfreq=532,266
nvram get clkfreq [to verify]
nvram commit && reboot
Not recommended: instability issues can arise from overclocking / overheating
See also Overclocking BCM 47xx CPU's for more info
Adding a heat sink or fan to the SoC is recommended
More information here (with pictures) to prevent overheating issues with heat sinks:
Почему asus rt-n16?
До этого рабочей лошадкой был dlink dir-615, особых нареканий в работе нет, единственное, из за чего и пришлось искать замену, — начал захлебываться под увеличившейся нагрузкой (в среднем 15 пк одновременно). Естественно при выборе, я искал что-то с более мощной начинкой, способной с запасом обрабатывать такую нагрузку. Выбор мой остановился именно на продукте от компании asus.
Неплохой дизайн, хорошее качество изготовления, мощное железо — именно то, что мне надо. Единственным минусом послужила прошивка — но для меня это не было актуально, все-равно перепрошивать на dd-wrt.
Что же роутер из себя представляет:
процессор Broadcom BCM4718, работающий на частоте 480 МГц, хоть в спецификации производителя и указана частота 533 МГц.
две микросхемы оперативной памяти от Samsung, общим объемом 128 Мб, сама прошивка находится на флешчипе объемом 32 Мб
Сетевой коммутатор Broadcom BCM53115SKFBG
2 usb 2.0 порта
Стандарт IEEE 802.11 b/g/n
Поддержка более 300 000 сессий, комфортная работа при большой p2p-нагрузке.
Это основные параметры, на которые я обращал внимание, более подробные характеристики и обзоры можно найти на просторах рунета.
Прошивка DD-WRT
Сначала готовим площадку (скачиваем эту прошивку), после получаем минимальную прошивку dd-wrt, а вот дальше уже шьемся прошивкой mega.
Далее настраиваем в соответствии с настройками провайдера. Подробные инструкции можно найти на официальном сайте прошивки).
Площадка для наших экспериментов готова.
Optware
Но на этом мы не остановимся. Следующим шагом послужило подключение к роутеру usb-харда (сойдет и флешка, если в планах нет организации ftp-сервера, установки торрент клиента, либо чего-то подобного).
Флешку необходимо отформатировать в ext3.
Подключаем флешку к роутеру, переходим на вкладку «Службы», раздел «USB».Отмечаем нужное и нажимаем «Применить».
Далее подключаемся по телнету к роутеру. IP-адрес роутера: 192.168.1.1 (если не меняли), логин: root (не важно, какой логин на самом деле, но для подключения по телнету необходим этот), пароль: тот самый, которыйбылзадан при первом запуске.
Подключившись вводим следующие команды:
wget www.3iii.dk/linux/optware/optware-install-ddwrt.sh -O — | tr -d "
" > /tmp/optware-install.sh
sh /tmp/optware-install.sh
export PATH=/opt/bin:/opt/sbin:$PATH
unset LD_LIBRARY_PATH
/opt/bin/ipkg-opt update
Теперь все готово для установки необходимого программного обеспечения. Это может быть торрент клиент, веб-сервер, сервер ретрансляции радио и другое.
Ограничение скорости клиентов
В моей ситуации получилась следующая проблема, когда один пользователь торрентами зажимал всем остальным скорость. В этом случае нам нужен шейпер. Более-менее адекватный шейпер есть только в платной прошивке, однако нам поможет генератор скриптов, который можно скачать здесь. С помощью скрипта нарезаем скорость и все остаются довольны. После того, как скрипт сгенерирован, копируем в поле, вкладки «Техподдержка», раздела «Команды» и сохраняем в файрволл. При настройке нужно указать беспроводной интерфейс wl0, иначе шейпер не будет работать. Шейпер работает на базе встроенного пакета ntb, т.е. дальше можно будет более гибко регулировать ограничения, создавать динамические ограничение и т.п.
Заключение
Данная статья не подлежит комментированию, поскольку её автор ещё не является полноправным участником сообщества. Вы сможете связаться с автором только после того, как он получит приглашение от кого-либо из участников сообщества. До этого момента его username будет скрыт псевдонимом.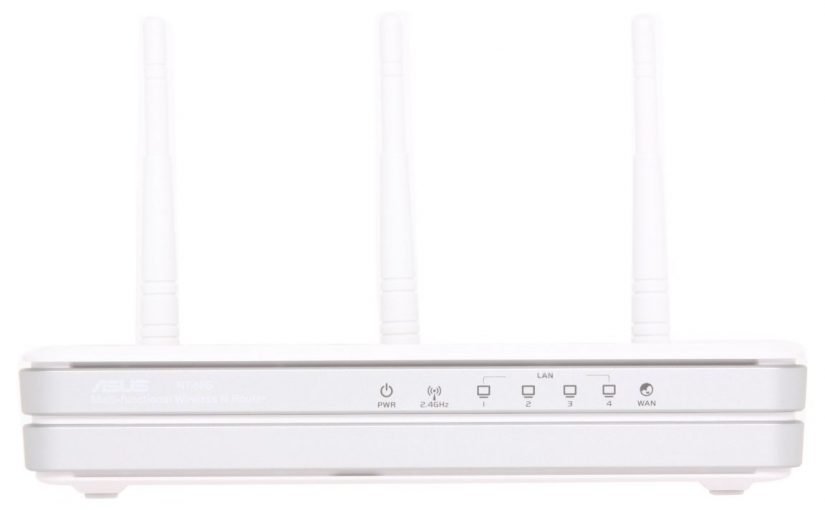 В данной статье я Вам расскажу, как прошить роутер Asus RT-N16 на прошивку DD-WRT
Данные действия лучше всего делать в IE!
1) Для начала скачиваем Asus RT-N16 Firmware: Image for initial flashing с сайта dd-wrt.com и NEWD K2.6 Big Generic
2) Сделайте сброс в Asus GUI. Перезагрузите маршрутизатор. Отключите все кабели (WAN, USB и т.д.) и подключите кабель Ethernet от компьютера в LAN1 порт на маршрутизаторе.
3) Заходим во вкладку обновление ПО и выбираем dd-wrt.v24-14896_NEWD-2_K2.6_mini_RT-N16.trx, нажимаем «обновить». Ждем не менее 10! минут.
4) После перезагрузки заходим в роутер, пишем пишем на первой же странице «UserName» — root, придумываем пароль и повторяем его.
5) Далее ОБЯЗАТЕЛЬНО идем во вкладку администрирование — сброс к заводским настройкам ( Administration -> Factory Defaults -> click Yes -> select Apply Settings)
6) После сброса снова пишем root и пароль
7) Идем во вкладку обновления ПО и загружаем в него dd-wrt.v24-14896_NEWD-2_K2.6_big.bin
8) После обновления ждем 5! (не менее) минут и заходим в роутер.
Поздравляю, у вас установлена полная прошивка DD-WRT
Поделиться ссылкой:
3 комментария
[…] прошлых статьях мы установили прошивку DD-WRT на наш Asus RT-N16 и установили к ней дополнение OptWare. Теперь мы […]
[…] прошлой статье мы установили на наш Asus RT-N16 DD-WRT прошивку. Чтобы ее использовать «по полной», нам надо […]
It is english language possible to write? Sorry for my proor eng