While Easy Recovery Essentials for Windows is often created and used as a recovery CD by following our guides on creating a bootable CD, it can also be readily converted to a bootable USB stick for use in PCs that don't have CD drives or when a CD or DVD isn't available.
We receive many complaints from users who've mistakenly created an EasyRE USB with the "Rufus" usb iso tool. Rufus does not support EasyRE and USBs created with Rufus will not boot into EasyRE! Please follow the instructions below instead.
Easy USB Creator
Easy USB Creator is a simple and easy-to-use utility that lets you burn a EasyRE ISO image to a USB or other removable disk with a single click. It is compatible with version 5.0 and up of Easy Recovery Essentials. For older versions of EasyRE, please refer to the EasyBCD-based USB creation instructions instead.
Creating a bootable USB stick
The following pictorial/instructions will guide you through the process of creating a bootable USB stick by using the Easy USB Creator.
Download Easy USB Creator
Run Easy USB Creator
Run UsbCreator.exe to start Easy USB Creator, and then browse to the ISO image you downloaded. If you don't yet have the EasyRE ISO image, you can grab yourself a copy from http://neosmart.net/EasyRE/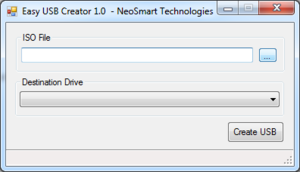 Easy USB Creator's home screen. Press the '…' button to browse for a file.
Browse for the ISO image
You'll need to press the '…' button in the top-right of the Easy USB Creator dialog to select the ISO image to convert to a bootable USB. The exact name of the downloaded ISO image may depend on how it was downloaded, as will the location of the file.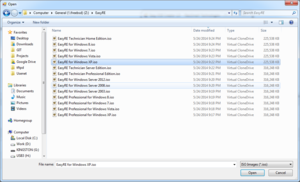 Select the EasyRE ISO image you downloaded earlier, the name may vary.
Select the Removable Drive
After selecting the ISO image to burn to the USB, you'll need to select the removable drive or USB stick to burn the ISO to.
Easy USB Creator will display all drives – be careful to avoid selecting a local drive, and make sure you've selected the USB stick you wish to use for this process.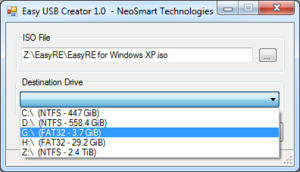 Select your USB stick or removable drive from the drop-down menu.
Create the USB
Once you've selected both the source ISO file and the destination USB drive, you should be ready to create the USB. Simply click the button labeled "Create USB" and wait while Easy USB Creator converts the ISO image to a bootable USB.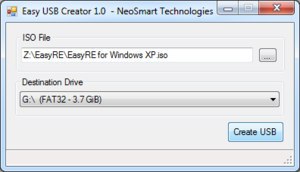 When you're ready, press the "Create USB" button to begin.
Please note that depending on the size of the ISO file and the write speed of the removable drive or USB stick, this might be a slower procedure. The progress bar at the bottom of the dialog will give you a fairly accurate representation of the progress and remaining time.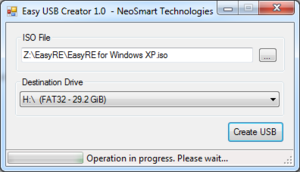 Easy USB Creator will begin to create your USB from the selected ISO image.

This message box is displayed once Easy USB Creator has finished creating your bootable USB stick.
Safely eject the USB
It's very important to safely eject the USB stick or removable drive before disconnecting it from your PC. Easy USB Creator writes a lot of sensitive data to the selected drive, and severe data loss or physical damage to the USB stick may occur if it isn't correctly ejected.
Booting from the USB
To start your system from your newly-created bootable USB stick or flash drive, please continue with the instructions in this related article from our knowledgebase: booting from a USB drive. Still having problems? Read our guide on troubleshooting boot from USB issues.
Is easy recovery essentials free? And how to use Easy Recovery Essentials free for Windows? On this page you will learn how to repair blue screen system and recover your data back.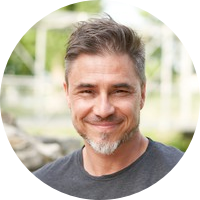 Theodomentis Lucia
Aug 21,2019 • Filed to: Free Data Recovery Solutions • Proven solutions
Is Easy Recovery Essentials Free?
We notice that the program of Easy Recovery Essentials for Windows is a poweful system repair software, today in this post you will learn:
What is Easy Recovery Essentials?
How to Use Easy Recovery Essentials Free for Windows?
What is the Best Alternative to Easy Recovery Essentials?
Overview of Easy Recovery Essentials Free
Easy Recovery Essentials free(EasyRE) is a bootable repair and recovery software from NeoSmart Technologies, it supports to repair the unbootable PCs and laptops. It means this program can be used for fixing the computer and repairing any non-booting or crashed PC.
Features of Easy Recovery Essentials Free:
A handy application for fixing the computer system.
Repair and restore non-workable PC computer.
It supports all types PCs and laptops repair and recovery.
Restore the computer system which cannot access to.
Recover lost data due to virus infected.
Supported Operating Systems:
This free recovery software supports Windows 10/8/7, Windows XP/Vista. The technicians' edition also supports Windows 2000, and Windows server. You can download Easy Recovery Essentials free from https://neosmart.net/EasyRE/
How to Fix PC Computer with Easy Recovery Essentials
EasyRE supports to Windows and Mac, before you restore the computer, you should burned onto a CD or USB drive. It is a bootable media which help your system and data recovery. To use EasyRE, you will need a blank CD/DVD/USB, a workable PC computer. On the following steps, we will start on Windows computer, you should download EasyRE on the computer.
Steps on how to repair and restore:
Step 1. Download EasyRE on the PC, save the software to a CD or USB.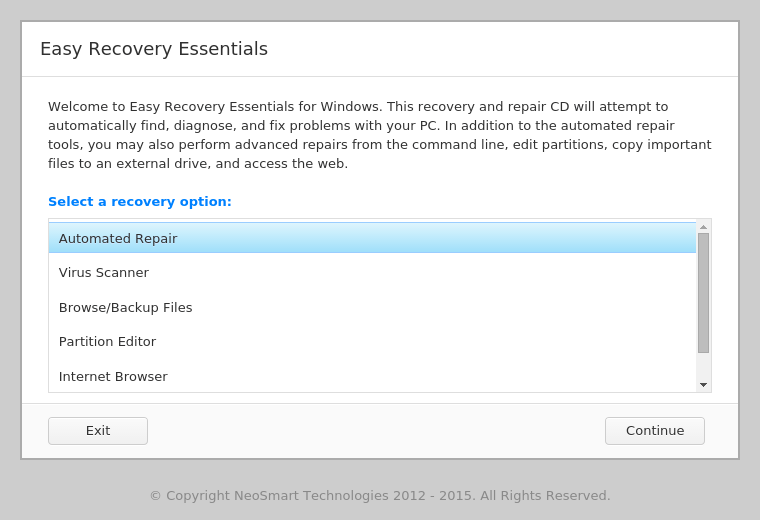 Step 2. Connect the USB/CD which carry EasyRE to the crashed computer and restart the PC.
Step 3. EasyRE will start to scan you PC and it will display a list of recovery options.
Step 4. This software will automatically search for system problems and fixes them. When it completed, you can reboot the PC.
User Reviews: (PRO and CONS)
PRO:
—"You are AWESOME. I had given to me a toshiba laptop with no external backup or DVD and only its factory installed partitions. The corruption of windows 8.1 made it try to auto repair, and it would run for hours getting nowhere. I couldn't access Safemode even using the DVD, when i eventually made one, on boot. The Toshiba just kept loading the T/WIn8 spinning dots icon & wouldn't let me access a command prompt so i tried & I tried & I TRIED . other live disks and online forum tips then i struck GOLD with EasyRE. The BEST $50 i've spent this week. GREAT STUFF GUYS. "
—"Dear NeoSmart Team, Absolutely outstanding software. After my 30 years in the software business, I rarely come across a software product that does exactly what is says it will do. Your recovery utility was perfect — easy to use, clear, and effective. You really deserve to be congratulated. Thank you very much,"
CONS:
—February 28th I purchased the windows PRO version for $39.95. I mistakenly thought I was ordering a disk I would get thought the mail. I had contacted neo tech and learned it would come electronically. They didn't mention the time to retrieve it was time sensitive. By the time I looked my order up it had already expired, therefore useless to me. I have been trying to reach them ever since, but they have been ignoring me completely. I'm out $40.00 with still a crashed computer. This is just wrong. If they do respond and this gets fixed I'll make note in a follow up.
Any Alternative to Easy Recovery Essentials Freeпјџ
Easy Recovery Essentials free is work for crashed or unbootable computer, repair the system and restore your lost data back with a USB/CD bootable media. It is need more technical skill for beginner who only want to get their lost data back. The next we will introduce the best free data recovery for you, which also can create a bootable media to help you repair the system and get your data back.
Steps on How to Recover Data Free with Recoverit Data Recovery
Download and install the best free data recovery software on your PC computer. Follow the next 3-steps to perform Windows data recovery and get your data back.
Step 1. Select the location of hard drive.
Launch Recoverit free data recovery on your computer, if your files got lost from external device you should connect it to the PC and then select disk to get started.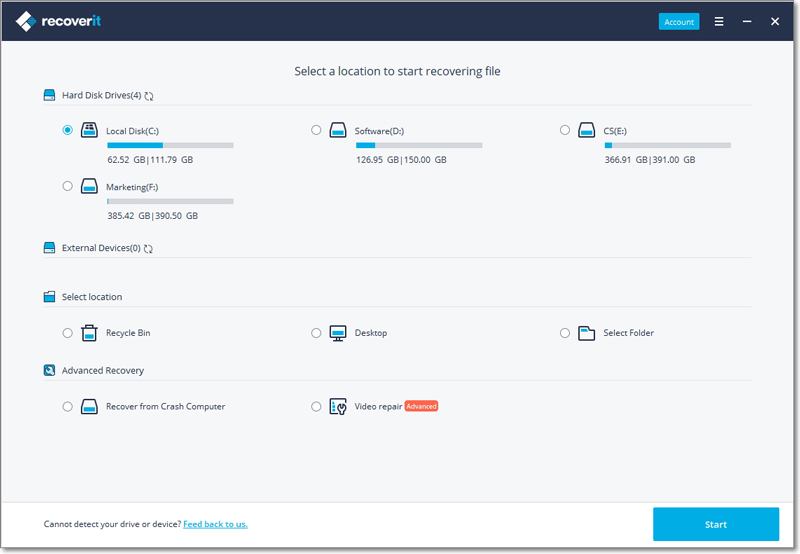 Step 2. The free recovery software will start scanning the lost files.
Once you select the disk and the software will take minutes to scanning your lost or deleted files.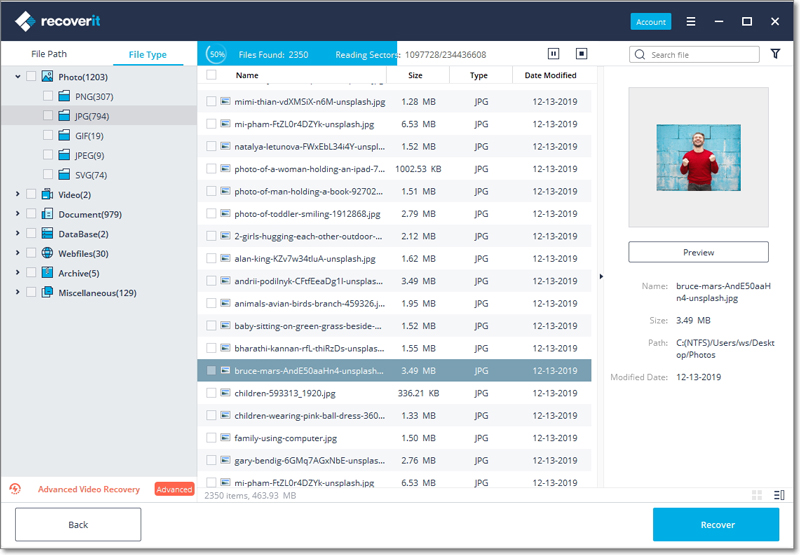 Step 3. Preview all recovered files and recover back.
After the scan, you can check all recovered files. Preview recovered Word document, Excel file, photos, video and audio, select your files and click "Recover" button to save them on a safe storage media.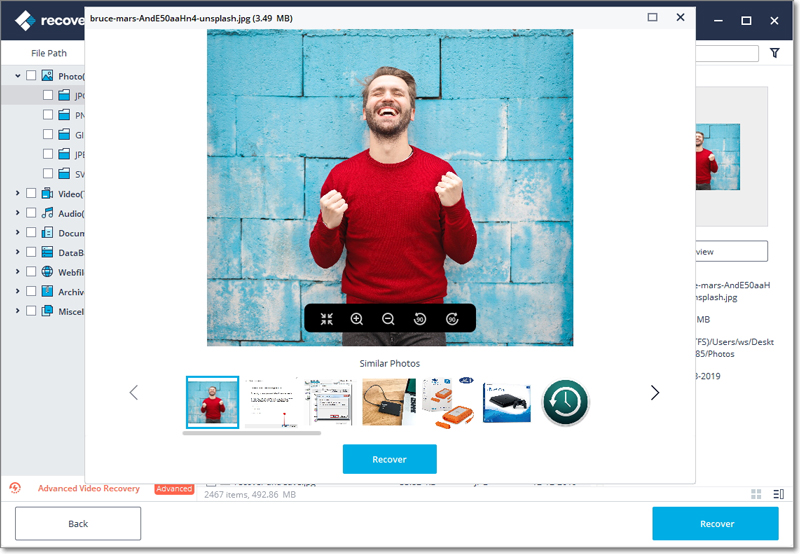 What if your computer got crash and unable to boot the system, you can upgrade it to technical edition and create a bootable USB media to restore the computer system. More specific steps you can check it from "System Crash Data Recovery".
Назначение программы: восстановление файлов с различных носителей (флеш, жёсткие диски внутренние и внешние, CD/DVD, и даже RAID) после удаления, форматирования, установки системы, удаления раздела, недоступности носителя (просит отформатировать). Поддерживает следующие файловые системы: FAT, exFAT, NTFS, HFS+, ISO9660 (CD/DVD), EXT2/3. Носитель должен быть при этом физически исправен, т. е. правильно определяться в BIOS и не иметь повреждённых секторов.
Автор программы: OnTrack, распространяется на платной основе.
Как пользоваться Easyrecovery
Допустим есть флешка Transcend 2GB, при попытке обращения к ней выводится сообщение о необходимости её отформатировать.
Далее программа спрашивает, что мы хотим сделать с нашей флешкой:
Explore Volume – просто открывает содержимое, как в Проводнике, ничего при этом не сканируется. Может использоваться при необходимости открыть диск с неподдерживаемой Windows файловой системой. В нашем случае этот вариант не подходит — флешка вообще не открывается т. к. имеет логические повреждения.
Deleted File Recovery – поиск и восстановление случайно удалённых файлов, папок, файлов удалённых из корзины. В зависимости от настроек, может сканировать весь том или только незанятое пространство.
Formatted Media Recovery – восстановление после случайного форматирования устройства или, если выдаётся сообщение «Диск не отформатирован» при обращении. Полностью сканирует носитель на предмет поиска файловых систем и различных типов файлов, работает дольше, чем предыдущий вариант. Вот им мы и воспользуемся.
Disk Diagnostics – диагностика носителя.
Предоставляет базовые возможности проверки носителя: сканирование на бэд-блоки, чтение SMART. Для подобных операций есть специально созданные для этого бесплатные средства, например Victoria, HDDScan, которые действительно могут более объективно продиагностировать накопитель.
Disk Tools – набор дополнительных средств работы с диском. Рассмотрим их.
Create Image – создание образа носителя в файл.
Restore Image – записать файл-образ посекторно на носитель.
Copy Disk – посекторно скопировать один диск на другой.
Трудно сказать, зачем в этой программе нужны данные функции, учитывая, что посекторные копии нужно делать с неисправных носителей, а для этого используются другие средства с совсем другими возможностями, направленными на минимизацию воздействия на неисправный накопитель.
View Disk – простейший дисковый редактор.
Мы получили результат среднего качества — структура и названия файлов не сохранились. Восстановление получилось только по типу файлов: изображения, документы и т. д. Из полезных пунктов в контекстном меню Open (сохранит файл во временную папку и откроет в связанной программе) и Save as – сохранить отдельный выбранный файл. Для сохранения всей восстановленной информации нужно нажать иконку с изображением дискеты и подписью Save. Но возможность сохранения информации появляется только после покупки лицензионного ключа.
Внимание! Никогда не сохраняйте данные на тот же диск с которого Вы их восстанавливаете. Иначе восстановленные файлы будут записываться на место восстанавливаемых файлов, что приведёт к их необратимому повреждению.
Главное при использовании этой и подобных программ, помнить и понимать, что они предназначены для работы с физически исправными носителями. Попытки сканирования носителя с повреждениями поверхности может значительно ухудшить состояние магнитных пластин на нём, поэтому не экспериментируйте над дисками с критически важными данными.